Evidence for Hope
By Kathryn Sikkink,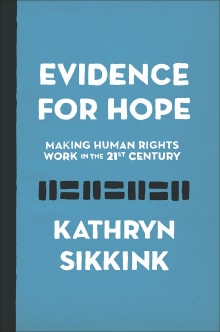 Book description
A history of the successes of the human rights movement and a case for why human rights work

Evidence for Hope makes the case that yes, human rights work. Critics may counter that the movement is in serious jeopardy or even a questionable byproduct of Western imperialism. Guantanamo is still…
Why read it?
1 author picked Evidence for Hope as one of their favorite books. Why do they recommend it?
Michael Freeman
When social scientists began to ask the question – neglected by human rights lawyers and activists – whether international human rights law actually improved the enjoyment of human rights, they came up with largely negative answers: international human rights law had no effect, or very little effect, or was sometimes counter-productive, being associated with more human rights violations, depending on the research methods used. Kathryn Sikkink was among the leading scholars challenging these results, showing that the previous studies greatly oversimplified the human rights world.
Her book, Evidence for Hope, brings together the empirical evidence showing that human rights…