Emmy in the Key of Code
By Aimee Lucido,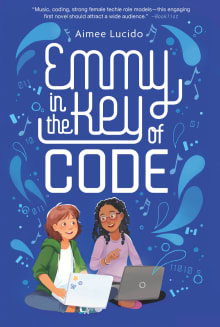 Book description
In this innovative middle grade novel, coding and music take center stage as new girl Emmy tries to find her place in a new school. Perfect for fans of the Girls Who Code series and The Crossover.
In a new city, at a new school, twelve-year-old Emmy has never felt…
Why read it?
2 authors picked Emmy in the Key of Code as one of their favorite books. Why do they recommend it?
Jennifer Gennari
My last choice is about a musical girl who finds a very different kind of "instrument" to play!
Twelve-year-old Emmy just moved from Wisconsin to San Francisco for her dad's big break as a pianist. Emmy wants to be a musician, too, but can't find the right instrument to play (I can relate!).
Notes and classical terms are in her head, but not her fingers in this novel-in-verse. Instead of music as an elective, Emmy ends up in computer science and makes friends with a quiet girl named Abigail.
Emmy learns java script, and the reader learns along with her.…
Lindsay Lackey
Told in snappy, smart verse that's peppered with real code, this novel explores what it's like to find your identity in two seemingly opposite passions. Emmy loves music and longs to be a musician, but lacks the talent the rest of her family shares. When she's forced to take a computer coding class, she realizes the possibilities of saying yes to all aspects of who she is.