Egalia's Daughters
By Gerd Brantenberg,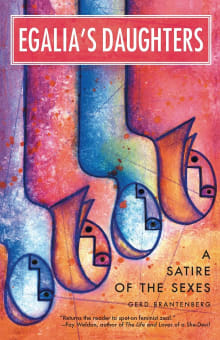 Book description
Reminiscent of Orwell and Huxley's dystopian novels, this classic of women's literature is an intelligent and well-written contribution to the sex-role debate.

Welcome to the land of Egalia, where gender roles are topsy-turvy as "wim" wield the power and "menwim" light the home fires. This re-telling of the prototypical coming-of-age…
Why read it?
1 author picked Egalia's Daughters as one of their favorite books. Why do they recommend it?
Redfern Jon Barrett
There is never enough alternate history. Particularly alternate history that doesn't focus either on the Nazis winning World War II or the South winning the American Civil War. Thankfully we have Egalia's Daughters, yet another forward-thinking novel from the seventies. Set in a world where gender norms are swapped around entirely, its male characters wear special testicle bras and adorn their beards with flowers (I do like that last part). Of course, this woman-dominated world is no less homophobic than our own, and as part of their gender rebellion, the men form relationships with one another, in various configurations.…