Dirk Gently's Holistic Detective Agency
By Douglas Adams,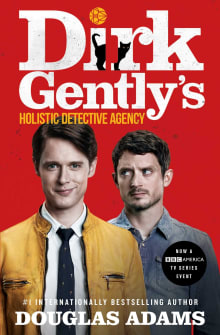 Book description
This is the first of three 6 x 30 minute full-cast dramatisations from the author and production team that brought us the most recent three series of "The Hitchhiker's Guide to the Galaxy". This first production is based on Douglas Adams' novel of the same name, adapted by Mike Stott…
Shepherd is reader supported. We may earn an affiliate commission when you buy through links on our website. (learn more)
Why read it?
2 authors picked Dirk Gently's Holistic Detective Agency as one of their favorite books. Why do they recommend it?
Will Hartzell-Baird
I'd be remiss if I didn't mention The Hitchhiker's Guide to the Galaxy, so naturally, I won't. If you're checking out a list like this, you don't need me to tell you about it. Instead, let's talk about Dirk Gently's Holistic Detective Agency. If you saw any of the 2016 BBC series based on the book–it's nothing like that. It's probably not much like the 2010 BBC series, either, but I never saw it, so who knows? In any event, if you enjoyed the classic humor of H2G2, Adams's bizarre detective novel will help satisfy the craving for…
Aaron Conners
Adams described this as a "detective-ghost-horror-whodunit-time travel-romantic-musical-comedy-epic," and I love this book in part because of how well it blends genres—something I do in my own stories. Humor, in particular, is hard enough to pull off, and other than the occasional hard-boiled wisecrack, most detective fiction doesn't have a whole lot. Adams not only tells a ripping yarn, you'll snort and chuckle all the way through.