Confessions on the 7
By Lisa Unger,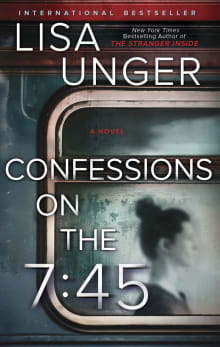 Book description
'WHAT A READ!... Completely engrossing, undeniably enthralling... The biggest five stars.' NetGalley reviewer, 5 stars
'A masterclass in storytelling... Unforgettable.' Samantha Downing, author of My Lovely Wife
Everyone has a secret. Who would you trust with yours?
On Selena Murphy's train home from work, a mysterious woman named Martha strikes…
Why read it?
2 authors picked Confessions on the 7 as one of their favorite books. Why do they recommend it?
N.L. Blandford
Without giving too much away, I enjoyed the multi-points of view and multiple personalities.
A reader needs to be paying attention in order to pick up the red herrings along the way. Otherwise, like me you'll be asking yourself what the heck just happened. Which makes a great thriller!
Although attention to the characters is needed at the start, it is a quick read that left me guessing until the last page. 
Forget tackling the mountain of dishes. Tackle this gripping thriller instead!
Kimberly Belle
Lisa Unger is an auto-buy author for me, but Confessions on the 7:45 might just be my favorite of her books. Selena strikes up a conversation with a stranger on the train during her commute home. The woman confesses she's stuck in an affair with her boss, prompting Selena to confess her husband is sleeping with the nanny. A chance meeting…or is it? The women part ways, presumably never to meet again, and then the nanny disappears and strange messages begin appearing on Selena's phone. Strangers on a Train, anyone? This is a top-notch thriller and a masterclass in…