Citizen-Protectors
By Jennifer Carlson,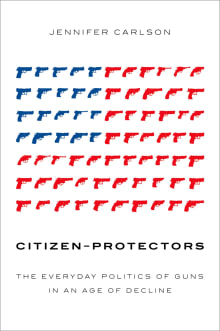 Book description
From gang- and drug-related shootings to mass shootings in schools, shopping centers, and movie theatres, reports of gun crimes fill the headlines of newspapers and nightly news programs. At the same time, a different kind of headline has captured public attention: a steady surge in pro-gun sentiment among Americans. A…
Why read it?
1 author picked Citizen-Protectors as one of their favorite books. Why do they recommend it?
Pamela Haag
Jennifer Carlson, Citizen-Protectors: The Everyday Politics of Guns in an Age of Decline, does the rare thing of actually asking gun owners (she interviewed sixty of them) why they have guns, and what guns mean to them. As a sociologist, Carlson immersed herself in the "gun carry culture"—Americans who carry guns with them in everyday life, which is a new wrinkle in American gun culture. I was surprised by many of her findings and insights, and in some cases I was struck by their elegance; for example, Americans carry guns because they feel the US is "in decline" because…