Carter Beats the Devil
By Glen Gold,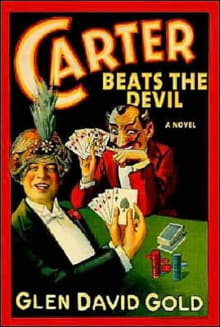 Book description
The mysterious death of President Harding in 1923 is only the curtain raiser to this extraordinary novel of magic and science. Charles Carter is Carter the Great, a name given to him by the supreme showman, Harry Houdini. Carter was born into privilege but became a magician out of need.…
Why read it?
2 authors picked Carter Beats the Devil as one of their favorite books. Why do they recommend it?
Rick Bleiweiss
Charles Joseph Carter, known as Carter the Great, was a real American magician whose career started in the late 1800s when he was just ten.
This book, which I've loved enough to read three times, takes place later in his career and postulates that one of the things he did (pure fiction) was to have President Warren G. Harding join him on stage and be cut into pieces, have his head sawed off, and then be restored to health. And then, shortly thereafter, Harding is dead. I am not going to give away the rest of the story because it's…
Bryan Johnston
Carter Beats the Devil is a historical mystery thriller based on a real character, a magician named Carter who is under suspicion of killing the president of the United States. There are plenty of powerful figures after him, and yet, he must dig deep into his own bag of tricks to outwit and escape them. Carter is a supremely enjoyable character who also happens to have a really cool job! I have always been fascinated by magic and this book takes you behind the curtain to see all that goes into the stagecraft.