Borderlands/La Frontera
By Gloria Anzaldúa,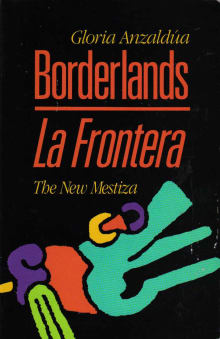 Book description
"The U.S-Mexican border es una herida abierta where the Third World grates against the first and bleeds. And before a scab forms it hemorrhages again, the lifeblood of two worlds merging to form a third country--a border culture."--Gloria Anzaldúa
Rooted in Gloria Anzaldúa's experience as a Chicana, a lesbian, an…
Why read it?
3 authors picked Borderlands/La Frontera as one of their favorite books. Why do they recommend it?
Bettina Aptheker
Gloria Anzaldúa was born and raised in South Texas, growing up along the U.S.-Mexican border. For many years she lived in San Francisco, and then in Santa Cruz, California.
The first 113 pages of the book are stories and essays drawn from her life experiences as a woman of Mexican and Indian heritage, daily experiencing life at the physical border between the United States and Mexico.
She was raised in a strongly Catholic tradition, while also drawn to and inventing her own spirituality rooted in indigenous practices of harmony, balance, and reverence for the earth. She was a lesbian in…
Emilia Di Martino
Gloria Anzaldúa was a Chicana cultural theorist, an activist, and a queer feminist scholar, and this book─which well mirrors this complexity, can be approached from many possible perspectives. Lying between essay writing, poetry, and semi-autobiographical memoir, it discloses how the author's identity was shaped by a daily confrontation between Mexican and Indian traditions and the Anglo-American present: cultures that edge each other on the borderlands of the Rio Grande.
While this may not appear to be a book on language at first glance, Borderlands/La Frontera unveils language's central role in the writer's personal identity-shaping ("Ethnic identity is twin skin to…
Carrie Gibson
Chicana writer Gloria Anzaldúa confronts all kinds of borders – including the one between the US and Mexico – with her essays and poems. This book is considered a classic in Mexican-American studies and is also influential in other fields, such as women's studies. Such is its power, it was placed on a list of books that the Tucson, Arizona school system controversially tried to ban in 2012. Although it was first published in 1987, it remains an essential guide to navigating cultural, psychological, and national borderlands.