Blood Water Paint
By Joy McCullough,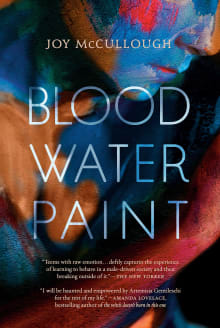 Book description
Her mother died when she was twelve, and suddenly Artemisia Gentileschi had a stark choice: a life as a nun in a convent or a life grinding pigment for her father's paint.

She chose paint.

By the time she was seventeen, Artemisia did more than grind pigment. She was one…
Why read it?
2 authors picked Blood Water Paint as one of their favorite books. Why do they recommend it?
Megan E. Freeman
Joy McCullough's Blood Water Paint is historical fiction that tells the story of Artemisia Gentileschi, a Renaissance painter who survived a sexual assault and persevered to see her assailant convicted in an Italian court. If the true aspects of the story weren't compelling enough, McCullough contrasts her fictional character with the biblical heroines Judith and Susanna, using prose and verse strategically to weave the stories with their counter-narratives. McCullough's experience as a playwright shines through here and her poetic devices are downright Shakespearean, revealing clues to her characters' emotional truths through the deceptively simple arrangement of words on the page.…
Kip Wilson
Blood Water Paint is an incredible #MeToo story based on the life of 17th century painter Artemisia Gentileschi. I found it timely and empowering, and I'm sure it will hook even readers who don't generally love historical fiction.
Interspersed with Artemisia's own story are snippets from the biblical figures Judith and Susanna, who serve to inspire and empower her. While those stories are in prose, Artemisia's story shines in gorgeous, ferocious verse perfect for today's YA readers.