Beyond Behaviors
By Mona Delahooke,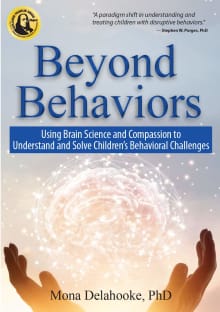 Book description
A NEW approach to solving behavioral challenges.

In Beyond Behaviors, internationally known pediatric psychologist, Dr. Mona Delahooke describes behaviors as the tip of the iceberg, important signals that we should address by seeking to understand a child's individual differences in the context of relational safety.

Featuring impactful worksheets and charts,…
Why read it?
2 authors picked Beyond Behaviors as one of their favorite books. Why do they recommend it?
Dona J. Matthews
In Beyond Behaviors, Mona Delahooke makes a clear, strong case for parents' self-compassion and for parents' compassionate responses to their children's "bad" behavior. Using solid brain science evidence and case histories from her decades of working with very challenging kids, Dr. Delahooke illustrates that children begin to thrive when they feel understood—not judged, not punished—when they lose control. The reader comes to see that misbehavior is a precious clue to a child's troubled inner reality. A parent's impatience, irritation, annoyance, or anxiety not only exacerbates the problem, increasing the child's suffering, but is also a sad, wasted chance at…
Joanne Foster
Beyond Behaviors is an award-winning book that's comprehensive, reader-friendly, and full of helpful strategies for parents and children. It offers fresh perspectives on long-held beliefs that behaviour issues are problems when, in truth, they're indicators that a child is struggling in some way and requires help to manage life's challenges. I love that author Mona Delahooke is unwavering in her emphasis on understanding and respecting individual needs, and I appreciate the wealth of knowledge and hands-on materials she imparts to address them. A great deal of thought, research, and effort has gone into this book.