At the Sea Floor Café
By Leslie Bulion, Leslie Evans (illustrator),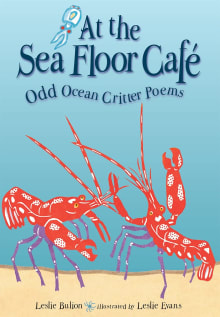 Book description
Dive in--to award-winning, funny science poetry about a remarkable array of sea creatures! AT THE SEA FLOOR CAFE: ODD OCEAN CRITTER POEMS is a creative nonfiction companion to elementary and middle school ocean studies.
Let s visit a habitat shallow and deep,
and boiling hot, where acids seep,
and frigid…
Why read it?
1 author picked At the Sea Floor Café as one of their favorite books. Why do they recommend it?
Matt Forrest Esenwine
Leslie Bulion combines her love of science and poetry to create fascinating, fun, and memorable books. While she has published several animal poetry collections, At the Sea Floor Café stands out for its exceptional balance of science fact and literary value.
Leslie is extremely skilled at finding the perfect poetic forms and phrases to do her subjects justice while never veering off into overt didacticism. Fun and surprising, this book is perfect for the nature science lover in the family.