Apostles of Disunion
By Charles B. Dew,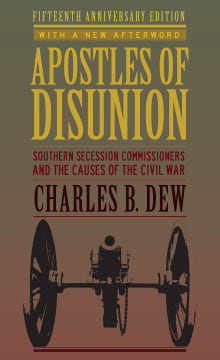 Book description
Charles Dew's Apostles of Disunion has established itself as a modern classic and an indispensable account of the Southern states' secession from the Union. Addressing topics still hotly debated among historians and the public at large more than a century and a half after the Civil War, the book offers…
Why read it?
2 authors picked Apostles of Disunion as one of their favorite books. Why do they recommend it?
Kevin M. Levin
This slim volume packs a mean punch. Following the secession of the seven Deep Southern states in 1860-61, commissioners were sent out to the remaining uncommitted slaveholding states to convince their leaders of the necessity of joining the new Confederate States of America. While the arguments of these secession commissioners included constitutional arguments in favor of secession, they relied even more so on emotional pleas that framed the election of the nation's first Republican president as a direct threat to the institution of slavery and white supremacy. Their speeches were laced with horrific images of emancipation and a region plunged…
Chandra Manning
In Apostles of Disunion, Confederates explain secession in their own words. Immediately after the election of President Abraham Lincoln in 1860, seven states seceded from the Union, but several other states elected not to, at least not yet. Among those states were Arkansas, North Carolina, Tennessee, and Virginia, states that would be vital to the viability of a Confederate nation. Agents from the states that had seceded traveled to pivotal swing states to make the case for secession. The agents were called secession commissioners, and Apostles of Disunion gathers together exactly what they said. It is a book of…