Ana on the Edge
By A.J. Sass,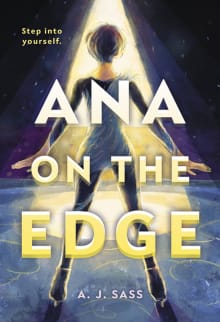 Book description
Twelve-year-old Ana-Marie Jin, the reigning US Juvenile figure skating champion, is not a frilly dress kind of kid. So, when Ana learns that next season's program will be princess themed, doubt forms fast. Still, Ana tries to focus on training and putting together a stellar routine worthy of national success.…
Why read it?
2 authors picked Ana on the Edge as one of their favorite books. Why do they recommend it?
Laurie Morrison
Ana on the Edge is a powerful novel about figure skating and gender identity that's equally perfect for figure skating enthusiasts and kids looking for LGBTQIA+ stories. It's obvious from the first page that the author is a figure skater who knows the sport intimately, but the sparkling skating scenes are just as fun and accessible for readers who watch the occasional Olympic figure skating competition as they would be for insiders. And the most special part of this book is the poignant way it depicts a kid who is figuring out the gender identity that feels right while competing…
Lisa Bunker
When it comes to misunderstood identities, it becomes crucial that there be stories by authors who have lived that story. There is no faking that authenticity. This is certainly the case with this engrossing and moving story of a young skater's growing awareness of and interest in non-binary identity, written by a non-binary author with experience of the skating world. I particularly like that the story takes place in a setting in which the gender binary is so strongly enforced. I also appreciate the intersectionality – the main character is Chinese-American and Jewish.