An Exact Replica of a Figment of My Imagination
By Elizabeth McCracken,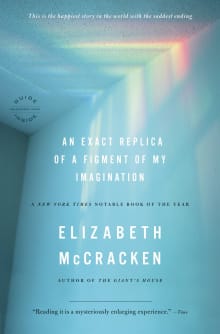 Book description
"This is the happiest story in the world with the saddest ending," writes Elizabeth McCracken in her powerful, inspiring memoir. A prize-winning, successful novelist in her 30s, McCracken was happy to be an itinerant writer and self-proclaimed spinster. But suddenly she fell in love, got married, and two years ago…
Why read it?
3 authors picked An Exact Replica of a Figment of My Imagination as one of their favorite books. Why do they recommend it?
Monica Starkman
This extraordinary book combines a lived experience with the powerful writing of an accomplished author.  Unexpectedly, in her mid-thirties, she finds a man to love and a baby is on the way. But then, the agony:  the baby dies in utero in the ninth month. She tackles head-on the deepest feelings and questions this brings. I like the way she unsparingly describes her experience and her grief, and then how she processes this and finds a way to move on. 
Monica Wesolowska
From the start, we know this book will be about a stillborn baby. From the start, we also hear about a second living baby. Weaving multiple storylines together, Elizabeth McCracken structures her narrative so perfectly that I read it with bated breath. Mixing life and death, wisdom and humor, she moves from a seagull stealing a sandwich on a beach in Florida to a storybook castle in the cow-studded French countryside. Full of honest observations about the pain and joy of life, this is a wonderfully cathartic read.

Kristin Louise Duncombe
This is a book about grief, and wrenching loss, of the nature that most people (fortunately) won't face: having a stillborn baby. Elizabeth McCracken was nine months pregnant with her first child when the baby, a little boy, suddenly died, in utero. This is a book about facing unthinkable loss, and the unique impact of this sort of loss on community, who has been waiting with joyful anticipation for the new arrival. McCracken writes about her loss with such poignancy; it is one of those books that leaves you feeling amazed at the resilience of the human spirit.