Amusing the Million
By John F. Kasson,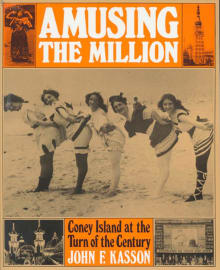 Book description
Coney Island: the name still resonates with a sense of racy Brooklyn excitement, the echo of beach-front popular entertainment before World War I. Amusing the Million examines the historical context in which Coney Island made its reputation as an amusement park and shows how America's changing social and economic conditions…
Shepherd is reader supported. We may earn an affiliate commission when you buy through links on our website. (learn more)
Why read it?
2 authors picked Amusing the Million as one of their favorite books. Why do they recommend it?
Nancy C. Unger
This short book, filled with delightful illustrations, is so much fun that you don't immediately notice that it's a powerful history of how urbanization and industrialization led to a new mass culture. The particular focus is on the rise of the amusement park, and the controversies that arose over how people "should" spend their leisure time and discretionary income. When the Russian revolutionary Maxim Gory toured Coney Island in 1907, he concluded that in America, amusement (rather than religion) had become the opiate of the masses. This book, a classic, remains relevant, inspiring thoughtful analysis concerning the ongoing power of…
Dawn Raffel
Crammed with delightful stories and images, Kasson's book is particularly strong in conveying the way that early 20th Century Coney Island provided a refuge for the "million": working class immigrants who spent all week cooped up in tenements and sweatshops could ride the new subway cars out to the ocean on the weekend. There, they found liberation not only from the confines of cramped spaces but from buttoned-up mores: "Various amusements contrived to lift women's skirts and reveal their legs and underclothing, while numerous others provided opportunities for intimate physical contact. Slow, scenic rides through tunnels and caves offered…