Alzheimer's Daughter
By Jean Lee,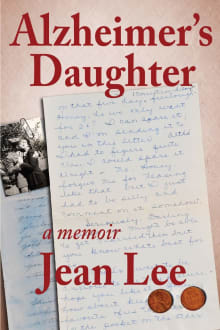 Book description
What would you do if both parents were diagnosed with Alzheimer's?At the time of their diagnosis, Ed Church struggles to his feet, yelling, "How dare you use the A. word with me," while Ibby wags her finger at the doctor scolding, "Shame on you."They protect each other, Ibby by asserting,…
Why read it?
2 authors picked Alzheimer's Daughter as one of their favorite books. Why do they recommend it?
Ann Campanella
I can't even imagine having both parents diagnosed with Alzheimer's on the same day. But Jean Lee handles this situation with grace and devotion. Through her parents' letters, she shares their love story. Ed and Ibby have a beautiful bond as do their daughters, yet the girls face a challenging road of caregiving that is sad, humorous, and touching, but always a model for how to love well. In Jean's book, she casts a spell of nostalgia, faith, and whimsy, pulling the reader into a circle of intimacy. 
Vicki Tapia
Both Jean's parents had Alzheimer's disease at the same time. Both my parents had Alzheimer's disease at the same time. When I read Jean Lee's memoir, it was like finding a long-lost sister. Like my book, her book also shares a personal story about the dementia journey. It's the kind of book I wish I might have found while caring for my parents; a book that would have helped me realize I could make it through to the other side. I recommend this story about the love between a daughter and her parents that not even dementia could erase.