A World Made New
By Mary Ann Glendon,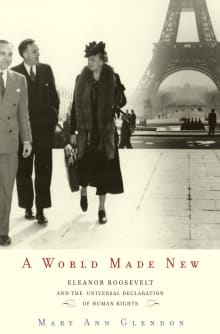 Book description
FINALIST FOR THE ROBERT F. KENNEDY BOOK AWARD •  "An important, potentially galvanizing book, and in this frightful, ferocious time, marked by war and agony, it is urgent reading."—Blanche Wiesen Cook, Los Angeles Times
 
Unafraid to speak her mind and famously tenacious in her convictions, Eleanor Roosevelt was still mourning…
Why read it?
2 authors picked A World Made New as one of their favorite books. Why do they recommend it?
Maurine Beasley
This book brings to life Eleanor's remarkable accomplishment at the United Nations in 1948 when she shepherded the adoption of the Universal Declaration of Human Rights without a dissenting vote. Describes the importance of this declaration as the primary instrument for the human rights movement today and argues there is much to learn from Eleanor's effort that incorporated both liberty and social responsibility in one of the world's most important documents. 

Nancy Woloch
Few diplomats of the late 1940s thought that Eleanor Roosevelt had much to offer the new United Nations, which had just begun after World War II. The former first lady, in the view of most experts, lacked preparation in foreign affairs; too voluble and too inexperienced, she might blunder into controversy. But they were totally wrong. As law professor Mary Ann Glendon so memorably shows, Mrs. Roosevelt as UN delegate became a star player on the international stage, the guiding spirit of the Universal Declaration of Human Rights (1948), and a much-admired "first lady of the world".