A Night to Remember
By Walter Lord,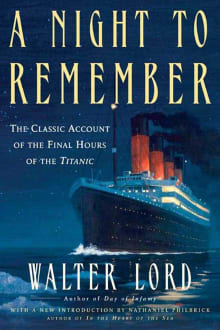 Book description
'There is no danger that Titanic will sink. The boat is unsinkable and nothing but inconvenience will be suffered by the passengers.' - Phillip Franklin, White Star Line Vice-President

On April 15th, 1912, Titanic, the world's largest passenger ship, sank after colliding with an iceberg, claiming more than 1,500 lives.…
Why read it?
3 authors picked A Night to Remember as one of their favorite books. Why do they recommend it?
Kathleen McGurl
This book is generally considered the definitive account of the events of 14th-15th April, 1912, covering what happened on both Titanic and Carpathia.
It was first published in 1955 when of course many of the survivors would still have been alive. It's short, and written in a wonderful, easy-to-read style, and has never been out of print. Rightly so – it's practically required reading for any novelist or filmmaker taking on the topic of Titanic.
And for anyone fascinated by the story of Titanic, there is no better book.
Trevor D'Silva
Although not a novel, but for Titanic fans or even other shipping disasters, it will give you minute by minute account of what passengers on the Titanic went through after colliding with an iceberg on that cold April night in 1912. It recounts the heroic deeds of many people who did their best to save themselves and others some even losing their lives in the process. This tragedy inspired me to put the Titanic disaster in my own book. It also inspired me to begin the novel with the Lusitania tragedy.
Christopher Ward
After the sinking of the Titanic, public interest in the disaster ended abruptly with the all-consuming tragedy of the First World War. It wasn't until 1955 when Walter Lord wrote the definitive account of the sinking, A Night To Remember, that interest in Titanic was reignited across the world. Lord had sailed on the Titanic's sister ship Olympic as a child and developed a fascination with the Titanic, collecting old newspaper cuttings and memorabilia. His parents thought him very odd.  
Lord carried his preoccupation with Titanic into adult life. While working in an advertising agency in New York in the…