A Life in Secrets
By Sarah Helm,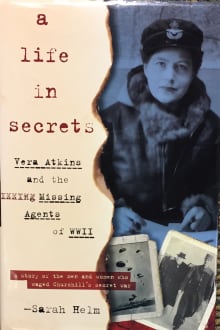 Book description
During World War Two the Special Operation Executive's French Section sent more than 400 agents into Occupied France -- at least 100 never returned and were reported 'Missing Believed Dead' after the war. Twelve of these were women who died in German concentration camps -- some were tortured, some were…
Why read it?
3 authors picked A Life in Secrets as one of their favorite books. Why do they recommend it?
Mara Timon
Sarah Helm's biography of Vera Atkins is perfectly titled. On one level, Vera was the 2nd in command of SOE's French Section, responsible for recruiting, training, and deploying SOE operatives into France. On another level, there were the closely guarded secrets of her own life.
Sarah Helm's biography revealed a workaholic, an immigrant who became more English than the English, and whose loyalty to her charges, and the Allied cause, was unswerving. After the war, when 118 SOE agent didn't make it home, Vera launched a personal crusade to find out what happened to them – a mission that…
Shrabani Basu
While women agents of the SOE have had biographies written about them for years, few knew about the woman who sent them in the field. The story of Vera Atkins, the steely SOE officer from F-section who sent the women agents to France during WWII, filled this much-needed gap. After the war, it was her dogged search for the missing women that uncovered their tragic fate in the concentration camps.

Clare Mulley
Excellent book that gets to the fascinating truth of Vera Atkins, the tough and dedicated Romanian born Jewish refugee who became the lynchpin in SOE's French Section based in London, and led the post-war investigation into what happened to all the female SOE agents who failed to return from service behind enemy lines.