The Rise and Fall of Merry England: The Ritual Year 1400-1700
By Ronald Hutton,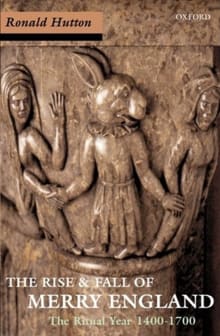 Why this book?
I'm passionate about writing well-researched history which appeals to the general reader and endeavours to present compelling, authentic pictures of times past. Hutton's book was a great help in understanding the religious and secular festivals which were celebrated by Dame Alice, her peers, and workers, on the days when she served high-status food at her dinner table. Together they appear to have enjoyed many traditional rituals, like Candlemas, Plough days, and the Harvest festival.
Here's one example: Hutton emphasizes New Year's Day was important for gift-giving and feasting: on January 1st, 1413 Dame Alice bought gloves and rings for her staff and fed over 300 people at her Suffolk home on hog roast, swan, mutton, and rabbit. A harper was also in attendance so, presumably, there was dancing and merriment too.
---