Effective C++: 55 Specific Ways to Improve Your Programs and Designs
By Scott Meyers,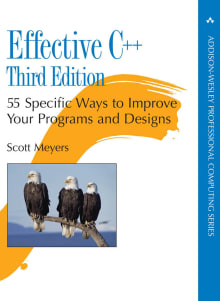 Why this book?
C++ is a tricky, beastly language, and there are no end of ways to program either incorrectly or inefficiently with it. Meyer's 1991 book set the bar high for similar books to come, providing great, detailed explanations about the language's pitfalls and how to avoid them. After reading Effective C++, though, you might find yourself wondering why you are coding in C++: The tips reveal so many insidious ways to shoot yourself in the foot, and worse, sometimes in a way that you won't even notice that your little toe is missing.
Effective C++ and the two follow-ons are essential reading for anyone working in C++. Nowadays you can purchase a digital edition that provides 140 total ways—adding in 50 additional tips from More Effective C++ and 40 from Effective STL.
---