The Julian Jaynes Collection
By Julian Jaynes,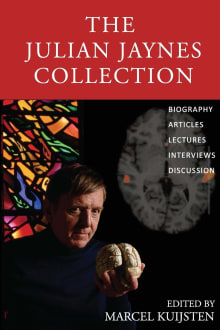 Recommended by Marcel Kuijsten
From Marcel's list on the bicameral mind.
After reading Jaynes' The Origin of Consciousness in the Breakdown of the Bicameral Mind, readers often have many questions about the theory. In this volume, Julian Jaynes answers all of the most frequent questions about his origin of consciousness and a previous mentality called the bicameral mind. The Julian Jaynes Collection includes rare and never before seen articles, lectures, interviews, and in-depth discussions that both clear up misconceptions as well as extend Jaynes's theory into new areas such as the nature of the self, dreams, emotions, art, music, therapy, and the consequences and future of consciousness. The Julian Jaynes Collection is guaranteed to greatly increase your understanding of Julian Jaynes's fascinating theory.

---