She Who Became the Sun
By Shelley Parker-Chan,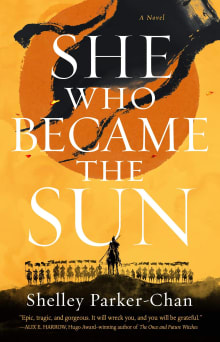 Recommended by Reese Hogan
From Reese's list on cross-dressing women in wartime.
This Asian historical fantasy is no simple Mulan retelling, but a deep dive into fate and desire, and the thin line that separates them from each other. Zhu Chongba disguises herself as a male because she decides to steal her dead brother's destiny of greatness. Though some elements of needing to disguise her gender come up, the story is centered on a strong-willed character's determination to become exactly who she deserves and wishes to be – a male warrior who takes fate into her own hands to make the world hers. For her, the male appearance is not a disguise, but a destiny. It's an incredibly powerful story that I couldn't put down. Parker-Chan is also on the nonbinary spectrum, and writes this queer character with expertise and passion.
---