Zero Footprint
By Simon Chase, Ralph Pezzullo,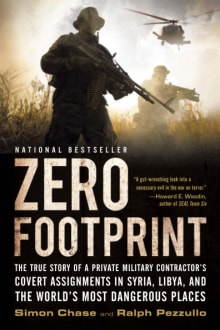 Book description
This national bestseller is a dramatic insider account of the world of private military contracting.

Armored cars, burner phones, top-notch weaponry and top-secret missions -- this is the life of today's private military contractor. Like author Simon Chase, many PMCs were once the world's top military operatives, and since retiring…
Why read it?
1 author picked Zero Footprint as one of their favorite books. Why do they recommend it?
Robert Patrick Lewis
Many Americans who follow geopolitics, the military, or our nation's involvement in the Global War on Terror know that Private Military Contractors (PMCs) have become a way in which much of these covert and clandestine wars are fought. Even those who know that PMCs exist don't know much about the types of missions they do, the types of people who staff these outfits, and the places that they've been in modern military history.
Zero Footprint chronicles the exploits of one British citizen on his path from a member of the heralded British Tier 1 unit The Special Air Service (SAS).…