The Vichy Syndrome
By Henry Rousso, Arthur Goldhammer (translator),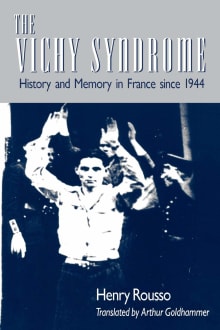 Book description
From the Liberation purges to the Barbie trial, France has struggled with the memory of the Vichy experience: a memory of defeat, occupation, and repression. In this provocative study, Henry Rousso examines how this proud nation-a nation where reality and myth commingle to confound understanding-has dealt with les annees noires.…
Shepherd is reader supported. We may earn an affiliate commission when you buy through links on our website. (learn more)
Why read it?
3 authors picked The Vichy Syndrome as one of their favorite books. Why do they recommend it?
Bertram M. Gordon
The role of France and the activities of the French during the Second World War German occupation, spanning the range from resistance through accommodation to collaboration, has been the subject of considerable literature on both sides of the Atlantic. First published in France in 1987, The Vichy Syndrome characterizes the memory of the war years as "a past that doesn't pass away." The book addresses the different ways in which the war years were remembered and helped popularize the study of historical memory, meaning the study not only of the events themselves but also how they are remembered and how…
Rosanna Warren
A classic, dramatically original study of conflicting French interpretations of the German Occupation in World War II and the anti-democratic regime of Vichy. Rousso shows how de Gaulle tried to unify the country after the Liberation by celebrating a myth of widespread French Resistance and obscuring the extent to which French collaboration enabled the horrors of the Shoah and the destruction of democracy. Rousso follows the story as it played out in the ensuing decades as more and more evidence of collaboration came to light, and ideological conflicts stretching back to the Dreyfus Affair in the late 19th century…
Robert Gildea
A path-breaking book on how the puppet Vichy regime of 1940-44 was remembered in France in the decades after it vanished. It shows how collective memory and commemoration shapes and is shaped by rival political cultures and changes over time. It could do with updating beyond 1990 – something I have tried to do in my own work.