The Theory of Moral Sentiments
By Adam Smith,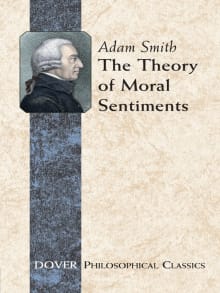 Book description
The foundation for a general system of morals, this 1749 work is a landmark in the history of moral and political thought. Readers familiar with Adam Smith from The Wealth of Nations will find this earlier book a revelation. Although the author is often misrepresented as a calculating rationalist who…
Why read it?
3 authors picked The Theory of Moral Sentiments as one of their favorite books. Why do they recommend it?
Doug White
Our love for humanity – which is how "philanthropy" is defined – is rooted in our sense of morality. 
Adam Smith explains that morality is not driven only by reason, but is built into us because we are social beings. To understand philanthropy, therefore, I think we need a grounding in how and why we want to help others.  This book explores that desire, or need, to empathize. 
Smith says that when we see people happy or sad, we feel happy or sad too, that we derive pleasure when people do things we approve of. Even though The Theory of…
Jack Buffington
Adam Smith is often known as the "father of modern capitalism" given his famous 1776 work, The Wealth of Nations. He is too often misquoted as being in favor of a laissez-faire, casino economy, with an individual's self-interest in being unfettered, but this is not the case. In his prior book, The Theory of Moral Sentiments, Smith paints a picture of an economy in balance that leads to economic growth and prosperity across the society. He railed against monarchs who hoarded gold and the East Indian Tea Company which was focused more on its profit than the welfare of society.…
Dennis Gentilin
The more you read the classics, the more you come to realise that the challenges we debate and grapple with today are no different to those that have been debated and grappled with across the eras. Times might change, but human nature is a constant. And for me, in his Theory of Moral Sentiments, Adam Smith provides one of the best treatises on human nature. I am sure there have been other attempts made but in my mind nothing I have read comes close to this work. In parts it is clear that the book was written in a…