The Spanish Holocaust
By Paul Preston,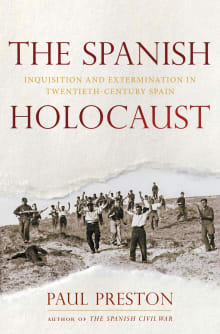 Book description
Evoking such classics as Anne Applebaum's Gulag and Robert Conquest's The Great Terror, The Spanish Holocaust sheds light on one of the darkest and most unexamined eras of modern European history. As Spain finally reclaims its historical memory, a full picture can now be drawn of the atrocities of Franco's…
Why read it?
2 authors picked The Spanish Holocaust as one of their favorite books. Why do they recommend it?
Steven Nightingale
The whole of Spanish history is contentious, with hardly a fact not subject to challenge or attack. But slowly, clarity and understanding have come forth, and finally, in this volume, the extraordinary scholar Paul Preston gives us the facts about the campaigns of extermination in the Spanish Civil War. Anyone who wants a solid, grounded, informed understanding of this miserable time of slaughter needs this book. Painful reading, and all the more necessary for that.

Gijs van Hensbergen
No one knows better or has dug deeper into the dramatic history of 20th c Spain. The esteemed biographer of Franco and ex-King Juan Carlos reveals a harrowing horrific organised extermination of Franco's political enemies that continued for a decade after the end of the Spanish Civil War. It is essential reading.