The Romanov Empress
By C.W. Gortner,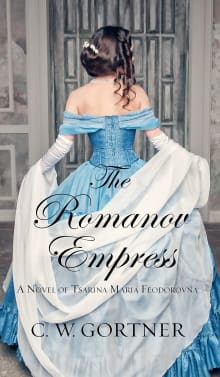 Book description
A Novel of Tsarina Maria Feodorovna From the opulent palaces of St. Petersburg to the World War I battlefields and the bloodied countryside occupied by the Bolsheviks, C. W. Gortner sweeps us into the fall of an empire and the bold heart of the woman who tried to save it.
Why read it?
2 authors picked The Romanov Empress as one of their favorite books. Why do they recommend it?
Ken Czech
Gortner's story of Tsarina Maria Feodorovna, the wife of Tsar Alexander III, features incredible historical detail on the tumultuous events sweeping through Russia from the tragic death of her husband to the awful murder of her son, Nicholas II, and his family. Told in first person, we see through the tsarina's eyes the slow and inevitable collapse of the Romanov dynasty in the face of gargantuan political and social upheavals. The descriptions of jewels and dresses and festivals underscores Romanov privilege when only a few had so much more than most.
What I found particularly interesting was Gortner's description of…
Jennifer Laam
The sumptuous story of Nicholas II's mother, Empress Maria Feodorovna, aka Princess Dagmar of Denmark. Initially engaged to his brother, she becomes the wife of Tsar Alexander III. This elegant novel follows the new empress from the triumphs of her early years in Russia, conflicts with her son's wife, Alexandra, and the challenges and heartbreak of the Russian Revolution.