The Racial Contract
By Charles W. Mills,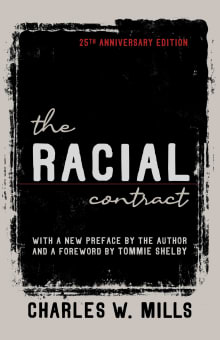 Book description
The Racial Contract puts classic Western social contract theory, deadpan, to extraordinary radical use. With a sweeping look at the European expansionism and racism of the last five hundred years, Charles W. Mills demonstrates how this peculiar and unacknowledged "contract" has shaped a system of global European domination: how it…
Why read it?
1 author picked The Racial Contract as one of their favorite books. Why do they recommend it?
Dean A. Strang
A brilliant, and to my mind greatly persuasive, critique of the entire world as it has been since roughly the 16th century. With a great grasp of the traditional branches of contractarian philosophy (think, emblematically, Locke on one hand and Rawls on the other), Mills describes a different social contract among white people that fixes all others as sub-persons. He argues that, while certainly not all white people are signatories to that implicit contract, white people all are beneficiaries of it to some extent. The book's sophistication is enhanced, never diminished, by the confident accessibility and humanity of the…