The Physics of God
By Joseph Selbie,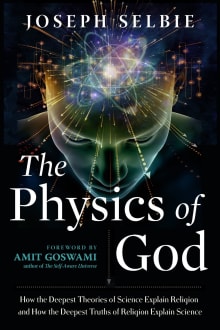 Book description
"Selbie clearly describes why phenomena labeled 'transcendent,' 'paranormal,' or 'spiritual' are more consistent with a modern scientific understanding of reality than is commonly supposed." —Dean Radin, PhD, chief scientist, Institute of Noetic Sciences, author of Real Magic and Entangled Minds

"The book combines science and religion in a way that…
Why read it?
2 authors picked The Physics of God as one of their favorite books. Why do they recommend it?
Larry Gottlieb
As a trained physicist, I think this book contains what may be the best explanation of physics in terms non-scientists can understand, as well as how that discipline can be useful in understanding what it really is to be a human being. In particular, I found this book to be quite helpful in grasping how 20th-century physics helps illuminate extra-ordinary experiences. I had one of these experiences, which occurred outside the bounds of our common understanding of the world and of ourselves. He also helps readers understand the gradual demise of scientific materialism, the belief that all things can or will be explained…
Richard Botelho
This book explores the potential synthesis of science and religion. What I found particularly interesting is the application of scientific discoveries to metaphysical experiences extending from Antiquity into the modern age. This book is also another paradigm transforming work. More importantly, this book identifies the unnecessary separation of science and faith that has occurred in history, an indictment against the intolerant tendencies of humanity.