The Naked and the Dead
By Norman Mailer,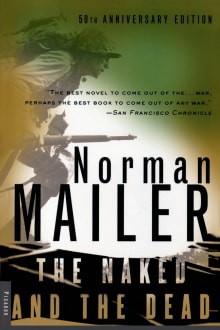 Book description
Coming soon!
Shepherd is reader supported. We may earn an affiliate commission when you buy through links on our website. (learn more)
Why read it?
3 authors picked The Naked and the Dead as one of their favorite books. Why do they recommend it?
Joe Kilgore
This book reaches deep inside the histories and personalities of a squad of American soldiers. It meticulously displays the differences between the men themselves while painting an unflinching picture of their reactions to combat and the virtual suicidal mission they are tasked with. The war in the Pacific as monumental conflict is brought to a cellular level. Simultaneously, different strata of class systems in the U.S. are explored through dramatizations of the men's lives before the war. If you're at all like me, it's impossible not to find yourself among the squad members. 
Robert J. Begiebing
I'd argue that this is the greatest World War II novel by an American who was there. It's another long book, but clearly written in an accessible early style Mailer learned from such literary heroes as John dos Passos and James T. Farrell. This debut novel made Mailer suddenly famous at age 25, "as if I were shot out of a cannon," as he put it. Set on a Pacific Island near the end of the war, we learn the life stories of about ten men (enlisted and officers) as they struggle to survive and to win the battles they…
Marvin J. Wolf
This is a fictionalized account of Mailer's WWII experience during the amphibious invasion of a Japanese-held Island and shows the courage and cowardice of men in war. I decided to read this after meeting Mailer at my cousin Jack Gelber's Manhattan Apartment in 1966. Upon learning that I had received a battlefield commission in Vietnam, Mailer, who was drunk, called me a baby killer, jerked me from a chair, and assumed a boxer's stance, meanwhile challenging me to fight him. He was unceremoniously shoved into his overcoat and out the door. But the man could write!