The Life of Guy
By Allan Metcalf,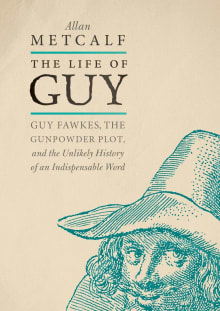 Book description
Had you said "What a guy!" in 17th-century England, anyone would have understood you were admiring a flaming effigy of Guy Fawkes of the Gunpowder Treason Plot.

How times have changed! In America and, indeed, most of the English-speaking world, "guy" is so embedded in daily speech that we scarcely…
Why read it?
1 author picked The Life of Guy as one of their favorite books. Why do they recommend it?
David Crystal
Most histories of vocabulary have little to say about a lot of words. This book reverses the process: it has a lot to say about just one word, guy. You might think that there isn't enough to fill an entire book, but you'd be wrong, because what we get is an insightful blend of history and linguistics—attempted regime change leading to language change. And one of the results? A new 2nd person plural pronoun: you guys.