The King's Last Song
By Geoff Ryman,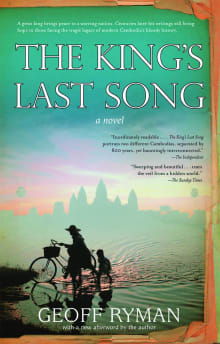 Book description
"[Ryman] has not so much created as revealed a world in which the promise of redemption takes seed even in horror."-The Boston Globe "Sweeping and beautiful...The complex story tears the veil from a hidden world."-The Sunday Times "Inordinately readable ...extraordinary in its detail, color and brutality."-The Independent "Ryman has crafted…
Why read it?
2 authors picked The King's Last Song as one of their favorite books. Why do they recommend it?
John Burgess
Ryman is known mainly as a science fiction and fantasy writer, and there's a hint of that here, as the story moves back and forth between the twelfth century, the heyday of the Khmer Empire, and present-day, post-Khmer Rouge Cambodia. My own writing has tried to depict life in the ancient days, so I of course wanted to see how someone else would do it. The answer is superbly. Ryman gives us an epic-scale life story of the great king Jayavarman VII, about whom next to nothing is known on a personal level. But now there's plenty, or so it…
Tom Vater
This adventure novel follows the travails of a French archaeologist who finds an ancient manuscript telling of the life of Jayavarman VII, the greatest of Cambodia's kings. Many of the Angkor temples were built during his reign. The manuscript and the archaeologist are promptly kidnapped by remnants of the communist Khmer Rouge and as he is forced to translate the document, the life and times of the ancient god-king are slowly revealed. The two time-lines sit a little uneasily together at times, but this novel provides a great introduction to both Angkor's rise into southeast Asia's greatest power, and more…