The Impending Crisis
By David M. Potter,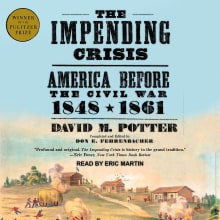 Book description
David M. Potter's Pulitzer Prize-winning The Impending Crisis is the definitive history of antebellum America. Potter's sweeping epic masterfully charts the chaotic forces that climaxed with the outbreak of the Civil War: westward expansion, the divisive issue of slavery, the Dred Scott decision, John Brown's uprising, the ascension of Abraham…
Why read it?
2 authors picked The Impending Crisis as one of their favorite books. Why do they recommend it?
Gary W. Gallagher
David M. Potter's The Impending Crisis, 1848-1861 (1976; winner of a posthumous Pulitzer Prize for History) remains, after nearly half-a-century, the best narrative on the coming of the Civil War. It brims with perceptive analysis and very usefully instructs readers about history's vexing complications. Completed after Potter's death by his colleague at Stanford Don E. Fehrenbacher, the engaging text forcefully reminds readers to keep in mind the contingent nature of politics and to avoid assuming events had to play out as they did. Part of the period's complexity lay in the fact that although the crisis of 1860-1861 had…
Paul D. Escott
This book is deservedly considered a classic. It is beautifully written and features penetrating analysis grounded in impressive research. Potter takes you into the minds of the politicians and policy-makers whose conflicts and struggles led to the Civil War and reveals how they thought about the issues and each other.