The Homing Instinct
By Bernd Heinrich,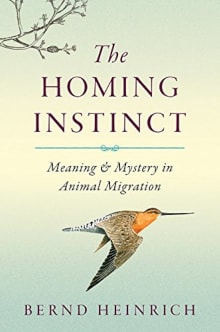 Book description
Acclaimed scientist and author Bernd Heinrich has returned every year since boyhood to a beloved patch of western Maine woods. What is the biology in humans of this deep-in-the-bones pull toward a particular place, and how is it related to animal homing?
Heinrich explores the fascinating science chipping away at…
Why read it?
1 author picked The Homing Instinct as one of their favorite books. Why do they recommend it?
Richard Goodman
Every time I read one of Bernd Heinrich's books, I feel closer to the natural world.
Heinrich is such a personable and highly informed guide. I feel like I'm walking by his side. Or, in some cases, flying by his side. I get tired of myself, and Bernd Heinrich turns my eyes outward, not inward.
This book is about animal migration, that heroic, mysterious journey that so many animals take part in and that, in many cases, is astonishing in its reach. How do these animals find their way to a distant place that, in some cases, they've never been…