The Heart of a Dog
By Mikhail Bulgakov, Mirra Ginsburg (translator),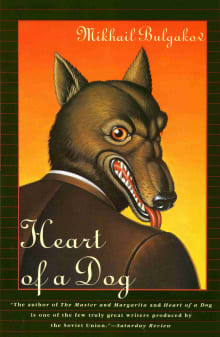 Book description
I first read Mikhail Bulgakov's The Master and Margarita on a balcony of the Hotel Metropole in Saigon on three summer evenings in 1971. The tropical air was heavy and full of the smells of cordite and motorcycle exhaust and rotting fish and wood-fire stoves, and the horizon flared ambiguously,…
Why read it?
1 author picked The Heart of a Dog as one of their favorite books. Why do they recommend it?
Simon Edge
Bulgakov, a Russian born in Kyiv, wrote The Heart of a Dog in 1925 when the Soviet Union was in its infancy. It's the breezy tale of a surgeon who transplants a human gland into a stray dog, turning an amiable mutt into a vile man.
There's a punning reference to Stalin in the name of the least flattering character, and the author was clearly inviting his readers to read between the lines: this was an early satire on the Bolshevik social experiment.
It was rejected for publication and circulated instead in samizdat form. Remarkably though, Stalin took the writer…