The Hating Game
By Sally Thorne,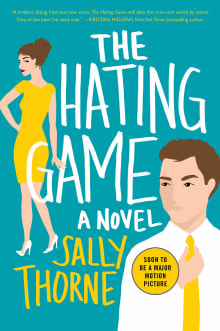 Book description
Debut author Sally Thorne bursts on the scene with a hilarious and sexy workplace comedy all about that thin, fine line between hate and love. Nemesis (n.) 1) An opponent or rival whom a person cannot best or overcome. 2) A person's undoing 3) Joshua Templeman Lucy Hutton has always…
Why read it?
3 authors picked The Hating Game as one of their favorite books. Why do they recommend it?
Elizabeth Drummond
The strapline alone was enough to make me want to know more, I mean, come on! "Lucy Hutton and Joshua Templeman sit across from each other every day...and they hate each other."
This tale of competing colleagues in the cutthroat publishing industry is wild and funny, with palpable sexual tension throughout. I personally love a male lead who is kind of scary and unreachable (…or is he?) and Joshua brings that perfect mix of brooding alpha males with hidden seams of sweetness. Lucy is sassy and sharp–a romantic heroine to aspire to. What really works for this book is…
Anna Bennett
Lucy and Josh have so much chemistry that it manifests as anger, frustration, and, yes, hate. But don't be fooled. Sally Thorne's writing is witty, charming, and sexy too. (Case in point: the elevator scene.) After reading this book, you'll want an office nemesis just so you can play the game—and drive Human Resources a little crazy in the process.
Isabel Keats
The female main character in Thorne's story is one of the funniest I have met to this day. Lucy's and Joshua's love/hate relationship is really original and full of sparkling games that will keep you laughing out loud. So if you are going through a bad time my advice is: try this book! I can assure you that this is the kind of romantic story that makes you smile even in the roughest of times.