The Doomsday Machine
By Daniel Ellsberg,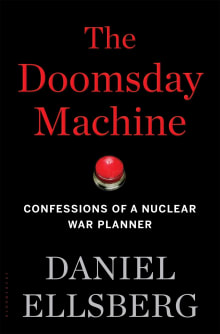 Book description
Shortlisted for the 2018 Andrew Carnegie Medal for Excellence in Non-Fiction

From the legendary whistle-blower who revealed the Pentagon Papers, the first insider expose of the awful dangers of America's hidden, seventy-year-long nuclear policy that is chillingly still extant

At the same time former presidential advisor Daniel Ellsberg famously took…
Why read it?
3 authors picked The Doomsday Machine as one of their favorite books. Why do they recommend it?
Nicholas Mee
Few topics are more important than the survival of humanity.
Daniel Ellsberg was a strategic military analyst and presidential advisor who worked for the RAND Corporation and later the Pentagon. His book The Doomsday Machine focuses on how the United States planned for nuclear war in the 1950s and 1960s and offers his first-hand account of the Cold War arms race and how the world teetered on the brink of nuclear annihilation during the Cuban Missile Crisis.
It is a stark reminder that for the foreseeable future we are condemned to live in a world where a small number of…
Howard Bruce Franklin
Russia and the U.S. each possess a Doomsday Machine: a weapon that could wipe out our species. If either launched their thousands of nuclear ICMBs, that would probably doom us, even if the other did not retaliate. So argues Ellsberg, who confesses his role in creating the menace.  (None of the seven other nuclear nations have more than a few hundred, as a deterrent.) The book's invaluable history includes multiple occasions when either Russia or the U.S. came perilously close to triggering Armageddon. When I was flying in the Strategic Air Command, we launched three times. Barely before it was…
David P. Barash
Dan Ellsberg was intimately involved with highly classified (and utterly despicable) nuclear war planning. He describes its history and reality in accessible and authoritative prose. It is the most personal memoir from a former Cold Warrior and is both intellectually powerful and deeply engaging on an interpersonal level.