The Darkest Part of the Forest
By Holly Black,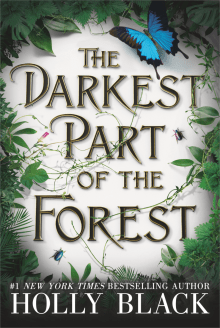 Book description
Faeries. Knights. Princes. True love. Think you know how the story goes? Think again ... From the New York Times bestselling author of The Spiderwick Chronicles comes a dark, dangerous and utterly beautiful faerie tale, guaranteed to steal your heart.

Hazel lives with her brother, Ben, in the strange town…
Why read it?
2 authors picked The Darkest Part of the Forest as one of their favorite books. Why do they recommend it?
Michele Barrow-Belisle
Wow, it is nearly impossible to choose just one of my faves from Holly Black's faerie stories. They are all amazing! Seriously…. Every. Last. One. But what grabbed me with this book was the way it started. This story has an eerie feel to it from the very first page. I love how Holly weaves reality into her fantasy and the way the Fae are already known and accepted in their world, but also feared (because hello, they're Fae!). There's everything in this story, romance, adventure, and coming-of-age badassery, which again bodes well if you ever find yourself face…
Jackie Dana
If you're getting started with modern faerie stories, Holly Black's The Darkest Part of the Forest is the ideal rabbit hole in which to fall. The story opens with a horned boy in a glass coffin, in a contemporary world where the existence of faeries is taken for granted. You'll love Hazel, a modern teenager who carries a sword and has a brother whose best friend is a changeling. Black's Faerie world pops with color, complex characters, and high adventure. While her faeries may seem human, beware of their magic and mischief. They might not be monsters, but they…