The Codebreakers
By David Kahn,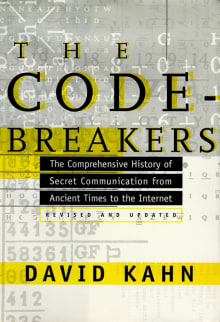 Book description
Codebreaking is the most important form of secret intelligence in the world. It produces much more and more trustworthy information than spies, and this intelligence exerts great influences upon the policies of governments.
Why read it?
2 authors picked The Codebreakers as one of their favorite books. Why do they recommend it?
Nicholas Reynolds
David was a pioneer. Before Codebreakers there was next to nothing in print about codebreaking. Focused on World War II, he introduced a generation of readers to a secret realm, inviting us to look behind the big green door for the first time. This generous and loyal friend alerted me to the need for comprehensive overview of American intelligence in World War II.
Robbyn Swan
Superb. Kahn's book, written almost fifty years ago, is rightly considered the classic work on the history of cryptography. It's enormous, some 1200 pages, but it draws the reader in with its richly detailed portraits of code-makers and code-breakers from ancient times to the modern era. Kahn's analysis of American cryptographic operations during WWII is essential reading for anyone who wants to understand the intelligence failures that preceded Pearl Harbor. The 1996 updated edition is still in print.