Styrbiorn the Strong
By E.R. Eddison,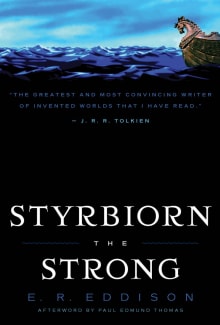 Book description
E. R. Eddison's classic saga novel now in paperback-includes for the first time Eddison's remarkable letter of introduction and his unabridged closing note
Styrbiorn the Strong tells the grand tale of Styrbiorn Olafsson, heir to the Swedish throne and known both for his impressive size and strength and his unruly,…
Why read it?
1 author picked Styrbiorn the Strong as one of their favorite books. Why do they recommend it?
Rowdy Geirsson
E.R. Eddison was an early fantasy novelist best known for The Worm Ouroboros, but like Poul Anderson, he also took a serious interest in bringing the ancient stories of the North into the modern age. Styrbiorn the Strong was his effort to capture the adventure of the old sagas by recreating a presumably lost full-length saga about the titular character. With Styrbiorn the Strong, Eddison built a convincing and original saga-inspired story from the fragments that exist about him (remaining references to Styrbiorn exist in Flatey Book, Eyrbyggja Saga, and the Heimskringla). The…