Soviet Judgment at Nuremberg
By Francine Hirsch,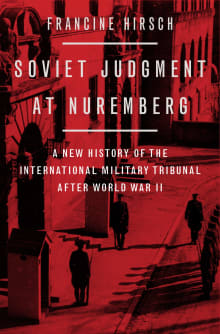 Book description
Organized in the immediate aftermath of World War Two by the victorious Allies, the Nuremberg Trials were intended to hold the Nazis to account for their crimes - and to restore a sense of justice to a world devastated by violence. As Francine Hirsch reveals in this immersive, gripping, and…
Why read it?
2 authors picked Soviet Judgment at Nuremberg as one of their favorite books. Why do they recommend it?
John C. Rodrigue
Stalin's Soviet Union never ceases to confound! If the Stalinist "show trials" of the 1930s are a depressing story, the Nuremberg trials of the Nazi leadership after World War II represent an attempt to redeem humanity from the enormity of Nazism.
But as Francine Hirsch demonstrates in this brilliant work, several key figures in the show trials also played essential roles at Nuremberg. Not only were Stalin's henchmen the driving force in preparing and conducting the cases against the Nazi leaders, but, perhaps more importantly, they were also primarily responsible for crafting many of the central tenets of international law…
Michael S. Bryant
The trials of Nazi war criminals are an important but subsidiary theme in Mary Fulbrook's book. In Francine Hirsch's study, the most significant trial of top-ranking German officials takes center stage, the International Military Tribunal at Nuremberg. Unlike most previous analyses of Nuremberg, which depict the Soviets as minor actors who, if anything, were impediments to the quest for justice, Hirsch insists that Soviet contributions were essential cornerstones of the trial's success. This may seem an unlikely role for a totalitarian country already responsible for terror famines in Ukraine, the atrocious show trials of the 1930s, and the senseless murder…