So Good They Can't Ignore You
By Cal Newport,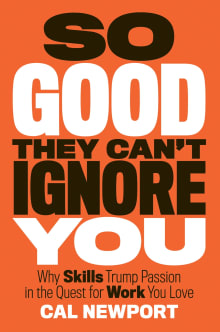 Book description
Cal Newport's clearly-written manifesto flies in the face of conventional wisdom by suggesting that it should be a person's talent and skill -- and not necessarily their passion -- that determines their career path. Newport, who graduated from Dartmouth College (Phi Beta Kappa) and recently earned a PhD. from MIT,…
Why read it?
3 authors picked So Good They Can't Ignore You as one of their favorite books. Why do they recommend it?
Shawn Swyx Wang
Cal Newport is arguably the leading thinker on career philosophy in the present day.
Understanding how to build career capital, develop valuable skills (rather than "just following your passion"), take control of your own career, and finally build a compelling mission, will give direction to your career that will set you apart and make you, well, so good they can't ignore you. :)
Angela Champ
I bet you've heard the advice, "Follow your passion" or "Do what you love and the money will follow." 
But many of us have no idea what our passion is, or our passion may be something that doesn't earn a living. Cal Newport lays out a case that passion comes after you put in the hard work to become excellent at something valuable, not before. 
In other words, passion won't make you great, but becoming great at something will bring on the passion, and what you do for a living isn't as important as how you do it. 
This book…
Jenny Foss
So Good They Can't Ignore You changed the way I think, and how I coach clients. Like many people, I'd long assumed that "follow your passion" is good career advice. "Do what you love and you'll never work a day in your life," right? 
Wrong. Cal Newport shatters this belief with a science-backed argument as to why "following your passion" often doesn't lead to career fulfillment.
He studied the topic exhaustively and discovered that the people who report being happy most frequently are those who build valuable skills then leverage this know-how to gain access to the things that matter…