Sister Outsider
By Audre Lorde,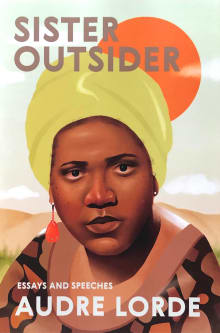 Book description
The woman's place of power within each of us is neither white nor surface; it is dark, it is ancient, and it is deep

The revolutionary writings of Audre Lorde gave voice to those 'outside the circle of this society's definition of acceptable women'. Uncompromising, angry and yet full of…
Why read it?
3 authors picked Sister Outsider as one of their favorite books. Why do they recommend it?
Bettina Aptheker
Audre Lorde described herself as a Black, lesbian, feminist, mother, warrior.
She was primarily a poet, but she also wrote powerful prose including Zami that she called a "biomythography," describing Black lesbian life in the 1940s and 1950s primarily in New York. This book, Sister Outsider is comprised of a series of short essays that profoundly changed and influenced my thinking from a Black, feminist, queer perspective.
Titles suggest new ways of thinking. For example: "Poetry Is Not A Luxury," "The Transformation of Silence into Language and Action," "Uses of the Erotic: The Erotic as Power," "The Master's Tools Will…
Carole Boyce Davies
Classic essays on Black women, Caribbean resistance, language, anger, and the combinations of race, class, gender, sexuality. These essays are now fundamental as we think through issues of sexual difference, the ways that poetry and the creative are accessible once we open ourselves to experience and express our deep feelings, and how it re-names the erotic as a place for women that is not wholly sexual but is orgasmic if we are able to reach that zone of creativity.

Paddy Docherty
On the face of it, Sister Outsider is not a book about colonial wrongdoing at all, but is the collected prose writing of the poet Audre Lorde on a variety of topics. However, given her status as a black lesbian of Grenadian descent living in the United States in the mid-twentieth century – and her astounding strength in battling against the racist patriarchy that despised her – I would suggest that her entire life is a monument to resisting colonial crimes and to fighting against embedded historical wrongs.
Much of that is reflected here in various ways. For example, it…