Seeds of Change
By Jen Cullerton Johnson, Sonia Lynn Sadler (illustrator),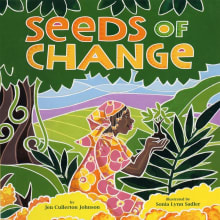 Book description
As a young girl in Kenya, Wangari was taught to respect nature. She grew up loving the land, plants, and animals that surrounded her -from the giant mugumo trees her people, the Kikuyu, revered to the tiny tadpoles that swam in the river. Although most Kenyan girls were not educated,…
Why read it?
1 author picked Seeds of Change as one of their favorite books. Why do they recommend it?
Sigrid Schmalzer
The story of environmental activist Wangari Maathai has been told many times, including in several children's books. I chose this book not only for its spectacular scratchboard illustrations of the Kenyan countryside but also because of its thoughtful attention to Maathai's passion for science and her path-breaking journey as an African woman scientist. Having overcome gender barriers in the pursuit of her education, Maathai went on to become the kind of scientist who stands up against injustice and for the land and its people.
Her mobilization of village women to plant trees all across Kenya, along with her bold political…