Rosaline Palmer Takes the Cake
By Alexis Hall,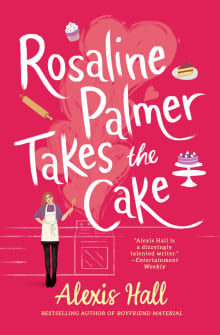 Book description
'A dizzyingly talented writer' Entertainment Weekly

'Joyfully queer, absurdly funny and swoonily romantic' K J Charles

'Brilliance on every single page' Christina Lauren

LGBTQ Reads: Most Anticipated Adult LGBTQAP Fiction 2021
We Are Bookish: Spring Releases to Have on Your Radar
_____________

A delicious romantic comedy by the bestselling author…
Why read it?
2 authors picked Rosaline Palmer Takes the Cake as one of their favorite books. Why do they recommend it?
Bethany Bennett
As a reader, I adore Alexis Hall. As a writer, his pitch-perfect prose and wonderful characters give me a bad case of Holy-Crap-I-Could-Never-Write-This-Well. Rosaline Palmer Takes the Cake straddles the line between Women's Fiction and Romance. Yes, there's a happy ever after, but the story is about more than the romantic relationship. Rosaline truly goes through a period of growth and healing, with a focus on her versus the couple that is reminiscent of Women's Fic. She's a single mother and a baker on a show inspired by The Great British Bake-off. A racially and sexually diverse cast of…
Lin Lustig
I can't remember the last time I laughed so hard with a book. I was crying! If you're a fan of The Great British Baking Show you must read this. Alexis Hall is clever with her relationship crafting and incredibly skilled at bringing in hilarious English insults—not to mention some euphemisms that slayed me. As someone who watches Bake Off to chill out and remember that the world isn't so bad, I can't help but push this book onto anyone who's ever enjoyed the show. That said, the book doesn't shy away from a common sexual assault that may be…