Rock Paper Scissors
By Alice Feeney,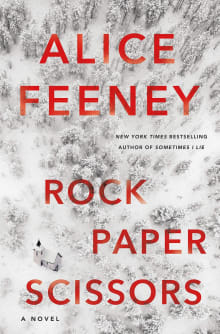 Book description
INSTANT NEW YORK TIMES BESTSELLER

"Feeney lives up to her reputation as the "queen of the twist"…This page-turner will keep you guessing." —Real Simple
Think you know the person you married? Think again…

Things have been wrong with Mr and Mrs Wright for a long time. When Adam and Amelia…
Why read it?
3 authors picked Rock Paper Scissors as one of their favorite books. Why do they recommend it?
Luke Dumas
This book blindsided me in the best way possible. It is so brilliantly crafted.
If you're like me, you go into most domestic thrillers expecting an onslaught of "shocking" twists and turns; they're so fundamental to the genre, and often so overstated in the marketing copy, that I'd become somewhat jaded to them. But I was not ready for this one.
It was more than a plot twist; like the best of them, it fundamentally altered my perspective on the text and the characters I thought I knew. This book gave me a new storytelling device to try out and…
Emily Freud
I want to preface this by saying I am a huge Feeny fan. I accosted her at the Harrogate book fair this year, and she was kind enough to chat with me about writing for a glorious half hour. I love her writing. It is captivating and otherworldly. You never quite know when you'll be able to come up for air or who to trust. 
The plot: A married couple spends their anniversary in the Scottish Highlands, a romantic trip away. But things begin to get disturbing. Peppered through the present-day narrative are letters the wife has written to her…
Mae Clair
I'd never heard of face-blindness before, but it plays a huge role in this twisty novel set in a snowbound setting. Married couple, Adam and Amelia, take a trip to a remote area of Scotland in a last-ditch effort to save their marriage. Adam has the added problem of face-blindness, an affliction that makes it impossible for him to remember faces—even his wife's.
The setting is a converted chapel replete with a crumbling bell tower, unheated rooms, and the whisper of supernatural happenings. The past unfolds in a series of letters Adam's wife writes to him every year on their…