Painting and Experience in Fifteenth-Century Italy
By Michael Baxandall,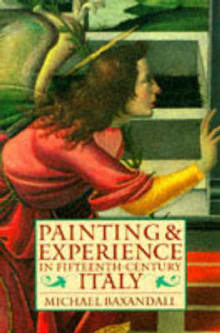 Book description
This book is both an introduction to fifteenth-century Italian painting, and a primer in how to read social history out of the style of pictures. It examines the commercial practice of the early Renaissance picture, trade in contracts, letters, and accounts; and it explains how the visual skills and habits…
Why read it?
2 authors picked Painting and Experience in Fifteenth-Century Italy as one of their favorite books. Why do they recommend it?
Ludmilla Jordanova
This book is simply brilliant. I first read it in the 1980s and return to it often for inspiration and to remind myself of its piercing lucidity. Beautifully written, clear, thoughtful, and direct, it expresses a way of looking at art and visual culture that can be applied to other times and places. Baxandall explores the social relationships and practices out of which works of art emerge, connecting the way paintings look with the society in which they were made. He robustly criticises simplistic approaches to the art of the past and shows how we can think differently and understand more. I have…
Francesca Fiorani
This is a classic study that for me—and countless others— changed the way we look at Renaissance art, the artists who made it, the patrons who commissioned it, the people who used it, and the Renaissance authors who wrote about it. Everybody knows that Masaccio, Uccello, Angelico, Botticelli, and Leonardo da Vinci were great painters. But only after reading this short and compelling essay by one of the twentieth-century most insightful art historians you understand how these great artists mirrored in their works daily life experiences and activities of Renaissance society, such as preaching, dancing, and gauging barrels.
After your…