North of Normal
By Cea Sunrise Person,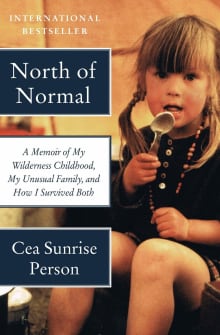 Book description
Sex, drugs, and . . . bug stew? In the vein of The Glass Castle and Wild, Cea Sunrise Person's compelling memoir of a childhood spent with her dysfunctional counter-culture family in the Canadian wilderness—a searing story of physical, emotional, and psychological survival.
In the late 1960s, riding the crest…
Why read it?
1 author picked North of Normal as one of their favorite books. Why do they recommend it?
Danielle R. Graham
The full title of this memoir by Cea Sunrise Person is North of Normal: A Memoir of My Wilderness Childhood, My Counter Culture Family, and How I Survived Both, which basically sums up this fascinating and wild ride through Cea's unconventional upbringing in a pot-smoking, free-loving, clothing-optional, canvas tipi-sleeping, non-conforming family in the Canadian wilderness. Gaining this unique view into the psychology and emotional fallout of the eccentric family lifestyle was shocking, heart-breaking, and inspirational all at once. You will never read another book quite like it.