Nathaniel's Nutmeg
By Giles Milton,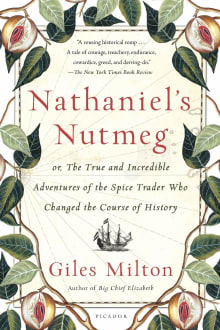 Book description
A true tale of high adventure in the South Seas.

The tiny island of Run is an insignificant speck in the Indonesian archipelago. Just two miles long and half a mile wide, it is remote, tranquil, and, these days, largely ignored.

Yet 370 years ago, Run's harvest of nutmeg (a…
Why read it?
3 authors picked Nathaniel's Nutmeg as one of their favorite books. Why do they recommend it?
Eleanor Ford
Delving into the bloodiest and most tragic period of spice's past, Milton's novel reveals the extraordinary link between nutmeg and colonisation. It was the seed from which the British Empire grew. If fiction is your preferred way to explore history – and what a history spice has! – then this is the book for you.
Thomas Suddendorf
Did your history teacher tell you about the spice race and how it drove colonization and shaped recent history? This wonderful book tells the remarkable story of the adventures surrounding the occupation of the tiny Indonesian island of Run, source of much-sought-after nutmeg, and the eventual trade the Dutch East India Company struck to gain control from the British. In return, the British received another island: New Amsterdam - or what we now know as Manhattan. 
Michael Schuman
One of those rare and wonderful books that brings back to life long-ago events that were of globe-changing importance at the time but have been all but forgotten today. With flair and energy, Milton retells the story of the battle between the British and Dutch for control of the famed Spice Islands and the riches they then possessed, all with a special twist at the end.